Muriel's Wedding, a movie from 1994, is written and directed by P.J. Hogan and produced by Linda House and Jocelyn Moorhouse, who also produced Proof. The cinematography is done by Martin McGrath, who also did this for Spellbinder (and some other movies that are featured here). It was nominated for a bunch of awards, including AFI, BAFTA and Golden Globe. It won 4 AFI awards, and 1 APRA Music award.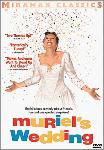 Muriel Heslop is a not very popular girl in her twenties, who lives with her parents. While listening to the music of her favourite band: Abba, she daydreams of marrying in a beautiful white dress. Her selfesteem suffers a lot from the constant remarks of her father, who tells her she is use-less, and from her friends who are not really friends anyway. When she is arrested at someones wedding party for stealing a dress, her friends decide it has been enough. They are going on a vacation and don't want her to be around them anymore.
With a lot of money that she takes from her parents, she follows the girls to the vacation island. There she meets Rhonda, a former classmate who becomes a first real friend of her. When she returns home, she sees that her parents have found out about the money and she flees with Rhonda to Sydney. There she starts a new life, changing her name to Mariel, and working at a video store. She gets a first date, and she feels fabulous.
On the night of the date, Rhonda falls and can't move her legs anymore. In hospital she is diagnosed with cancer. They operate immediately, and she has to do revalidation. Meanwhile, Mariel visits about all wedding dress shops in the city, and is caught by Rhonda, trying out another wedding dress. Mariel collapses and tells her that she doesn't want to be her former self anymore.
At the homefront, her dad leaves her mother and starts to live with Dei-dre, a business partner. Rhonda's cancer has returned, and she will never be able to walk again. On the other hand, Mariel finally has her wedding, but its a sham marriage with swimmer David Van Arckle, who needs this to be able to stay in Australia. At this point, Mariel has lost everything she used to stand for, she now has become like her former friends.
When Mariel's dad files for a divorce from her mother, her mother com-mits suicide. This brings Mariel back to earth. She calls herself Muriel again, breaks up with David, and goes back to Sydney with Rhonda.
Toni Collette
as Muriel Heslop /
Mariel Heslop-Van Arckle
Bill Hunter
as Bill Heslop
Rachel Griffiths
as Rhonda
Sophie Lee
as Tania Degano
Rosalind Hammond
as Cheryl
Belinda Jarrett
as Janine
Pippa Grandison
as Nicole
Jeanie Drynan
as Betty Heslop
Daniel Wyllie
as Perry Heslop
Gabby Millgate
as Joanie Heslop
Gennie Nevinson
as Deidre Chambers
Matt Day
as Brice Nobes
Chris Haywood
as coach Ken Blundell
Daniel Lapaine
as David Van Arckle
Susan Prior
as girl at wedding
Cecily Polson
as Tania's mother
Nathan Kaye
as Peter 'Chook' Vernell
Rob Steele
as Leo Higgins
Geneviève Picot
as store detective
Richard Sutherland
as constable Saunders
Steve Smith
as constable Gillespie
Katie Saunders
as Penelope Heslop
Dene Kermond
as Malcolm Heslop
Heather Mitchell
as bridal manageress #1
and others
as others
This movie's copyright is by its owner(s).