A Little Bit Of Soul is a movie from 1998, written and directed by Peter Duncan (see also Children Of The Revolution and Thank God He Met Lizzie), with cinematography from the hand of Martin McGrath (Spellbinder and many others featured here). One of the leading roles is for Heather Mitchell. In this movie, she co-stars with Geoffrey Rush (see also Children Of The Revolution, Mercury), David Wenham (also: The Brush-Off) and Frances O'Connor (also: Bathing Boxes and Thank God He Met Lizzie).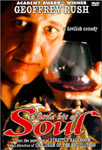 Richard Shorkinghorn has discovered a way to reverse the aging process. He has only tried it on chickens thusfar and needs money to continue his research. He sends his research paper to various people and gets no positive reaction. But after a while he gets contacted by Grace Michael (Heather Mitchell) of the Michael foundation. She invites him to come over to her vacation house.
When he arrives there, he sees that his former laboratory assistant: Kate Haslett, is also there. She also competes for the same funding with the same project. When they both arrive at the house, it seems that Kate becomes best friends with Grace. Meanwhile Richard meets Grace's husband: Godfrey Usher, who is minister of finance. When their first evening together goes by, Godfrey tells Richard that he doesn't understand the economy and he asks Richard for help.
The next day, Richard has an awful headache from drinking too much, and so sleeps the whole day. At the evening he hears Kate screaming. Apparantly, Grace and Godfrey had invited a few people and one of their guests has committed a bloody suicide.
Later, they find out that it was Sue Harrington, a mutual friend of Richard and Kate. While Grace and Godfrey are away, they discover that they are satanists...
| | |
| --- | --- |
| Geoffrey Rush | as Godfrey Usher |
| David Wenham | as Richard Shorkinghorn |
| Frances O'Connor | as Kate Haslett |
| Heather Mitchell | as Grace Michael |
| John Gaden | as Dr. Sommerville |
| Iris Shand | as Mrs. Crane |
| Kerry Walker | as Eugenie Mason |
| Roy Billing | as judge |
| Jennifer Hagan | as the prosecution |
| Peter Duncan | as the defense |
| Paul Blackwell | as Hungry Fred |
| Craig Rasmus | as Bobby |
| Paul Livingston | as chicken voices |
| Richard Roxbourgh | as voice of Sir Samual Michael |
For more images, go to Page 2

This movie's copyright is by its owner(s).