Children Of The Revolution
Children Of The Revolution is a movie from 1996, written and directed by Peter Duncan (also known for A Little Bit Of Soul). The cinematography is done by Martin McGrath, who also did this for Spellbinder. The movie was nominated for 9 AFI awards (Australian Film Institute), and has won 3 of them. It won some other awards as well.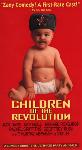 It is the year 1951. Joan Fraser is a communist in heart and soul. She wants to start a communist revolution in Australia. She writes letters to Stalin and receives and invitation to visit him. She is accompagnied by David Hoyle (who has the comrade name 'Nine'). They all get very drunk, and Joan wakes up in Stalin's bedroom, with Stalin being dead. She thinks she has murdered Stalin. The members of the communist party are very pleased by his death, and she can freely return to Australia. She knows she is pregnant from Stalin, and decides to accept a pre-vious marriage proposal from Zachary Welch. He doesn't know who the father of the child is, but accepts him like were it his son.
And so, Joe Welch gets born. Joe follows his mothers' interest in com-munism, which is noticed by his teacher: mrs. Savage (Heather Mit-chell). David visits Joan, and thinks he is the father of Joan. He black-mails her with pictures from her with Stalin. He wants to be able to be with the one he thinks is his son.
During the war in Vietnam, Joe and Joan demonstrate against the war, and get arrested a lot. Joe falls in love with Anna, a police officer. When Joe has to go to the army, he refuses, and must go to jail. When a fire breaks loose prison, Joe rescues a prison guard, and is freed, being regarded as a hero. He marries Anna, and gets to lead the police and prison guards' union. He becomes a popular politician.
Questions arise over who Joe's father is. David tells Anna that he is the father, but Anna begins to believe that Stalin is the father. It all escalates and Joan tells the media that Joe is the son of Josef Stalin. Joe's political carrier is completely ruined. Then Joan gets shot by a former fellow prison inmate of Joe, and Joe gets arrested for planning the murder. Here the story ends.
| | |
| --- | --- |
| Judy Davis | as Joan Fraser |
| Sam Neill | as David Hoyle |
| Frank Murray Abraham | as Jozef Stalin |
| Richard Roxburgh | as Joseph Welch |
| Rachel Griffiths | as constable Anna |
| Geoffrey Rush | as Zachary Welch |
| Russell Kiefel | as Barry Rogers |
| John Gaden | as Prof. C. W. Wilke |
| Ben McIvor | as young Joe Welch |
| Marshall Napier | as Brendan Shaw |
| Ken Radley | as Bernard Shaw |
| Fiona Press | as Mavis Craig |
| Alex Menglet | as Yuri Nikolayev |
| Rowan Woods | as Colin Slansky |
| Barry Langrishe | as Ted |
| Ron Haddrick | as Sir Allan Miles |
| Graham Ware Jr. | as Harry |
| Robbie McGregor | as minister Frank |
| Heather Mitchell | as mrs. Savage |
| Paul Livingston | as Beria |
| Dennis Watkins | as Khrushchev |
| Steve Abbott | as Malenkov |
| Charles Little | as doctor |
| Matt Potter | as Tommy Booth |
| Harold Hopkins | as police commissioner |
| Sam Willcock | as Ivan |
| Craig Blair | as prison guard #1 |
| Stephen Shanahan | as prison guard #2 |
| Roy Billing | as police sergeant |
| Philip Dodd | as policeman Brian |
| John Paramor | as policeman Davo |
| Micheal Kitsche | as policeman #1 |
| Glen Keenan | as constable |
| Marian Dworakowski | as Yuri's Colleague #1 |
| Waldemar Gorechi | as Yuri's Colleague #2 |
| Ben Slivkin | as Yuri's Colleague #3 |
| Nick Holland | as reporter #1 |
| Stephen Feneley | as reporter #2 |
| Elspeth MacTavish | as reporter #3 (Mary Nield) |
| Paul Lyneham | as himself |
This movie's copyright is by its owner(s).